Live Music & Concerts
Island Tunes, Blues and All that Jazz
Kure Beach invites visitors to groove the night away with live music events and concert series. Grab a front-row seat at free, family-friendly concerts like the oceanfront Boogie in the Park concert series and Fort Fisher Air Force Recreation Area's summer lawn concerts. Or make plans to attend the annual Seafood, Blues & Jazz Festival featuring Grammy Award-winning artists alongside fresh seafood and ocean breezes.
Oceanfront Tunes
Dance on over to the Ocean Front Park every first and third Sunday, May through October, for the Boogie in the Park concert series. This free concert series plays host to a variety of music genres from country to Motown, rock and reggae. Pack a picnic, beach chairs or blanket and groove to the music with soothing ocean waves and sea breezes as a backdrop.
Sounds of Summer
Round up the family for an evening of free, live music during the summer lawn concerts at Fort Fisher Air Force Recreation Area the second and fourth Fridays, June through August. The whole gang will enjoy a variety of bands that take the stage in this beautiful venue along the Cape Fear River. Bring a picnic and lawn chairs and enjoy the sounds of summer.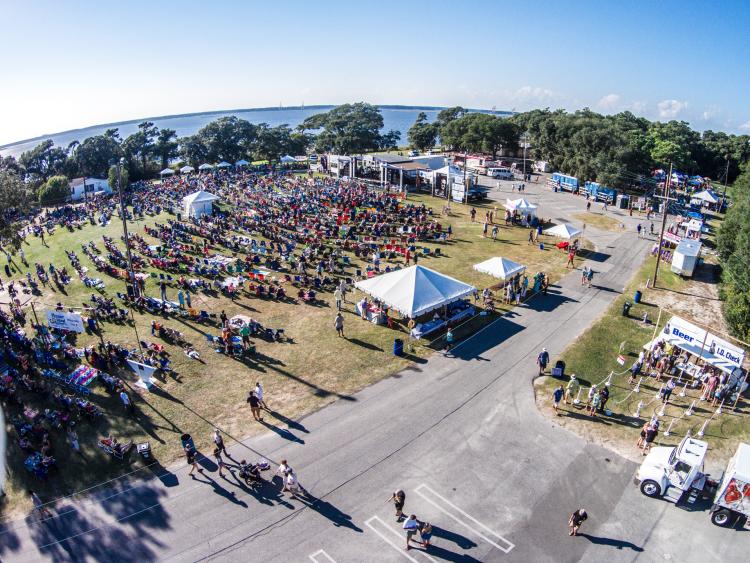 SEAFOOD, BLUES AND JAZZ FESTIVAL
Treat family and friends to a weekend of non-stop Grammy Award-winning musical talent at the annual Seafood, Blues & Jazz Festival – an island tradition for more than 25 years – at Fort Fisher Air Force Recreation Area. For two days every April, a lineup of nationally recognized blues & jazz performers takes the stage as concertgoers enjoy freshly prepared seafood dishes and seaside sunshine. Lawn chairs are welcome!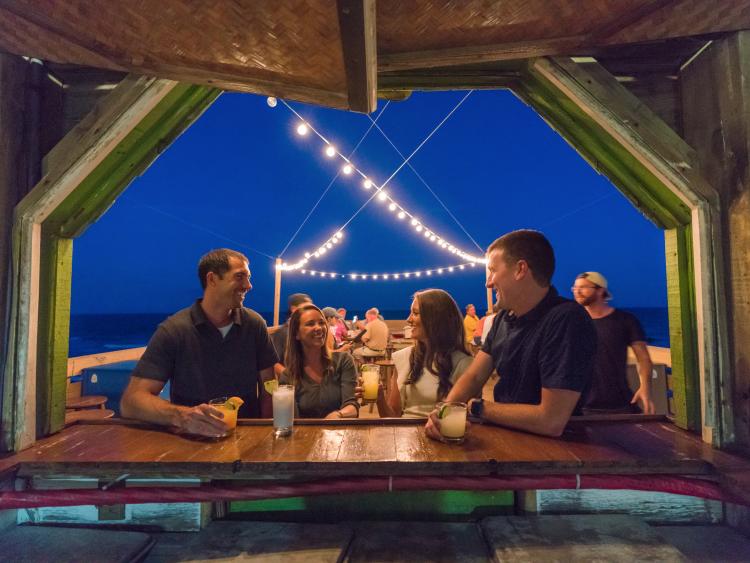 NEARBY ISLAND SPLENDOR
Make the short trip to neighboring Carolina Beach for more nightlife. Stop by local favorite the Fat Pelican, voted as one of "The 32 Diviest Dive Bars in America" by impulcity.com, thanks to its legendary walk-in cooler and a bar made out of a boat. You can also groove to the tunes from local and regional bands at The Ocean Grill & Tiki Bar, named one of "America's Best Beach Bars" by Thrillist.com, and Seawitch Café & Tiki Bar, which features a regular lineup of live entertainment.
You Might Also Like...
Enjoy fresh-caught seafood with Caribbean flair, a walk-up burger spot or a retro diner.
Dig In
Attend music fests and street festivals or a high-flying kite extravaganza.
Start Planning
Discover live music and concerts in Kure Beach and nearby on the Carolina Beach Boardwalk.
View Events Calendar