With the school year coming to a close and summertime right around the corner, the North Carolina Aquarium at Fort Fisher has welcomed back a flock of vibrant birds for its popular spring and summer exhibit: Lorikeet Landing. Open now through September 2, this live animal exhibit features colorful lorikeets – tropical birds that fly throughout the exhibit's enclosure, offering a magical, interactive experience that both kids and adults will enjoy!
The exhibit is the perfect excuse to plan a family vacation to experience the magic of the aquarium, as well as everything else to see and do during the summer at Kure Beach from live music to local, seasonal eats and the beach, of course.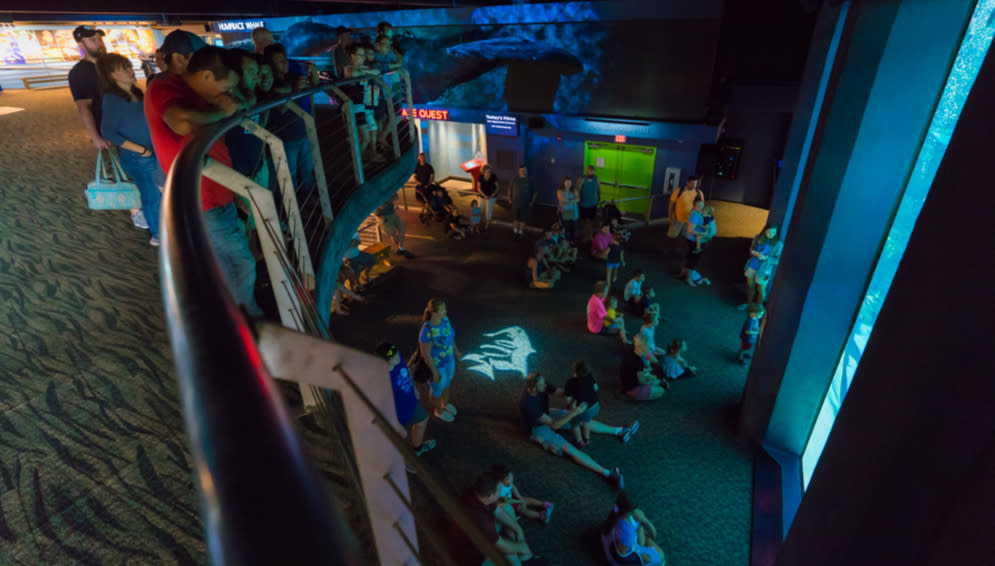 Upgrade your family's Lorikeet Landing adventure to a longer vacation that includes the following attractions and activities:
Day One
Start your trip off right with a savory dinner at Jack Mackerel's Island Grill, a Caribbean-inspired restaurant that incorporates local, flavorful ingredients into its dishes. The casual island vibe and large menu make this an ideal dining experience for all ages. For those unbeatable summer nights, request a table on the second-floor outdoor patio and enjoy the summertime breeze.
Day Two
Give yourself a boost of caffeine before hanging with the lorikeets at Happy Hippies Java Hut. This charming coffee shop is located right by Kure Beach's Ocean Front Park and Pavilion and the Kure Beach Fishing Pier, so you can grab your coffee, lemonade and muffins to-go and set up a beachfront, morning picnic before a busy day with the family.
For the main event, make your way to the North Carolina Aquarium at Fort Fisher, recently named one of the best aquariums in the country by USA Today's 10Best. Be prepared for lorikeets to fly around and land on your arms, legs or even head! If you want to get more out of this interactive experience, you can purchase a nectar cup and feed the birds. This eye-catching, engaging exhibit is perfect for the entire family, and don't forget to snap a picture for social media and memories.
Following the exhibit, be sure to check out other popular aquarium inhabitants, such as Luna the albino alligator and Maverick the bald eagle. Families feeling a little adventurous can reach into tanks and touch sea stars, horseshoe crabs and dog sharks, too.
Before heading out, grab lunch at the aquarium's snack bar, SharkBites, and enjoy it in the great outdoors. The aquarium recently welcomed a new Nature Play area where children and families can climb, build, swing, jump and imagine in a natural space.
Following the aquarium, spend the afternoon at Fort Fisher State Recreation Area where you can enjoy six miles of undeveloped shoreline and observe undisturbed wildlife. Families can see species like Loggerhead sea turtles, partake in fishing along the shore, experience the natural wonder of the coquina rock formation at low tide or check out part of the Basin Trail, a hike that leads you through salt marsh and maritime forest.
Treat the family to dinner at Freddie's Restaurant, a charming family-owned restaurant offering Southern hospitality and authentic Italian cuisine in an Irish pub atmosphere. Without a doubt, everyone in the family will adore this menu and its popular dishes, such as "Freddie's Special Chop" and the owner's famous lasagna.
Day Three
Head to nearby Carolina Beach and start your day at Britt's Donut Shop. Keep it sweet and simple with the only menu item: homemade glazed donuts. These donuts hold so much flavor that you won't even miss sprinkles, frosting or other embellishments. Britt's is frequently ranked among the top donut shops in the country, so it's a must-try breakfast (or dessert) spot!
Visit the Carolina Beach Boardwalk, named one of the most awesome boardwalks in the country by Budget Travel. Pick out a souvenir from boardwalk shops, play games at the arcade or get in some beach time. Pick up something sweet from The Fudgeboat or Squigley's Ice Cream & Treats, which serves over 4,050 flavors of homemade ice cream…yum! Don't miss out on the seaside boardwalk amusements this summer that include a Ferris wheel that will give you and your family the ultimate view of Carolina Beach.
Build in a stop at Carolina Beach State Park, home to plenty of trails and a busy marina. The park is an ideal spot for an afternoon of outdoor fun. Carolina Beach State Park is one of the few places in the U.S. that the Venus flytrap inhabits, so be on the lookout for this rare flora as you venture on foot. For those looking to explore the park by water, Paddle NC offers kayaking, canoeing and standup paddleboarding adventures.
After a day out and about, make your way back to Kure Beach for a feast at Big Daddy's. The Kure Beach tradition has been around for almost 50 years and is a great family-dining restaurant serving seafood, steak and traditional favorites that will leave everyone in the family satisfied. Guests can also enjoy outdoor music on select nights during the summer.  
Day Four
Head to Kure Beach Diner for a home-style breakfast and the nearby ocean breeze. The diner prides itself on its timeless, neighborhood vibe and offers breakfast favorites from pancakes to omelets and biscuits.
Following breakfast, make your way to Ocean Front Park for Storytime by the Sea, a magical event taking place every Wednesday from mid-June through mid-August where princesses and other fairytale characters share stories and interact with the kiddos! Or, on Tuesdays, shop 'til you drop for local produce and handcrafted goods from a variety of vendors at Ocean Front Park's Kure Beach Market.
To learn more about the historic roots of North Carolina's small wonder, visit the Civil War's largest amphibious battle site at Fort Fisher State Historic Site. The museum features an exhibit showcasing the remains of the Civil War blockade runner, the Condor, with the surrounding area offering miles of walking trails as well as two oceanfront gazebos.