If you've been to Kure Beach, you've likely enjoyed the peaceful small town atmosphere and miles of undeveloped beach. Between two of the state's landmark attractions – the North Carolina Aquarium at Fort Fisher and Fort Fisher State Historic Site – and lots of other things to see and do, it may be hard to believe people actually get to call this their place of work.
Meet three passionate people who turned their interests into a career at Kure Beach:
John Morris, Deputy State Archaeologist at the North Carolina Underwater Archaeology Branch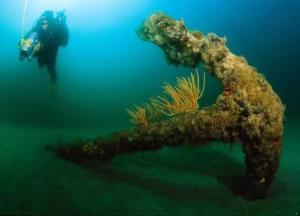 As you stroll through the exhibits at Fort Fisher State Historic Site, you will see fascinating pieces of North Carolina's history, such as artifacts from the sunken blockade-runner Modern Greece, that were recovered right off the coast. Ever wonder how these one-of-a-kind underwater artifacts make it to land? Meet John Morris. Together with his team of underwater archaeologists, John works to record, interpret and manage the state's maritime heritage. This job description means that each day brings a new adventure for John, from diving the site of a historic shipwreck and recording video and mapping the site, to utilizing sonar to locate undiscovered shipwrecks and reviewing permits that will have an impact on underwater resources.
John is a native of nearby Wilmington who has a lifelong love of the ocean. As a teenager, he had a chance encounter with Gordon Watts, the former Underwater Archeologist for North Carolina, and set out to make his dream career into a reality. Now, his days are filled with "history in color," as he puts it, discovering and preserving remarkable pieces of underwater history with each dive. His team also works with other divers to teach them how to preserve North Carolina's heritage dive sites to keep them safe for generations to come. The next time you visit Kure Beach, be sure to check out the unique artifacts from shipwrecks that are on display there.
Julie Johnson, Aquarium Curator at the North Carolina Aquarium at Fort Fisher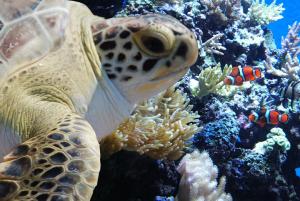 When is the last time you cleaned an albino alligator with a toothbrush at work? For Julie Johnson, this is a typical workday. Julie has been working at the aquarium for more than 16 years and has yet to end the day without a story. She is responsible for directing the team that cares for thousands of animals, along with expanding the aquarium's research focus and conservation efforts. Each day, Julie's team protects the safety and welfare of endangered animals such as the Carolina Gopher frog, sea turtles and sand tiger sharks. They also step into action when animals are at risk, like the time they saved nearly two dozen Kemp's Ridley sea turtles after the turtles experienced a mass cold stunning during the winter season.
To most of us, this job seems unique for obvious reasons. But Julie says what makes her job unique isn't cleaning an alligator with a toothbrush or spending time with baby sea turtles; instead, it's the impact her team makes. For more than 40 years, the North Carolina Aquarium at Fort Fisher has connected people with nature, and each year hundreds of thousands of people see animals they have never, and most likely will never, see in the wild. Visitors leave the aquarium with a connection that helps them understand why caring for our natural spaces, and the animals living there, matters.
The Cannon Crew at Fort Fisher State Historic Site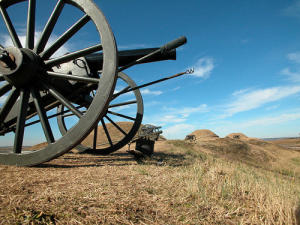 If you've ever been to a reenactment at Fort Fisher State Historic Site, you've most likely seen a crew fire one of the site's two authentic cannons. What you most likely didn't realize is the amount of training and skill it takes for these crew members to fire the cannons. The Fort Fisher Cannon Crew consists of six people, all highly trained and certified in historic weaponry. All members of the crew must have extensive knowledge in geometry and the ability to act quickly on command; if one person misses a step or does his or her part incorrectly, the entire operation could fail and even cause harm. The six members have different jobs, each of which is crucial to safely firing the cannons. The last member of the crew is the gunner, the person responsible for issuing all the commands: "Search the piece," "Load," "Ready," "Fire," and "Secure the piece" following the firing. The gunner also has the responsibility of aiming the piece by sight – mathematics is required to do this adequately. 
Always enthusiastic and passionate about their careers, these Fort Fisher employees work hard to make the time visitors spend at Kure Beach unforgettable and educational.