Travelers flock to Kure Beach throughout the year for a variety of reasons – family-friendly attractions, R&R, fresh seafood, ocean breezes – the list goes on. However, one of the main activities beachgoers might be missing out on is fishing.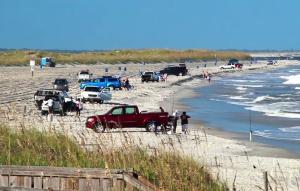 Even if you've never had an interest in fishing, seeing all of those four-wheel drive vehicles sprouting fishing rods from their front grills might just pique your interest. Or perhaps you wonder if dropping a line off a pier really would be as relaxing as it looks.
There's never been a better time or place to try your hand at fishing than during a fall getaway to Kure Beach, home to some of the best fishing in the state. Read on for a list of ways to introduce yourself to the fishing life at Kure Beach:
Just past neighboring Carolina Beach, US 421 makes a name transition to become Fort Fisher Blvd in Kure Beach. Anglers who pay attention will notice the same types of signs designating public beach access areas where they can park and walk to the oceanfront to fish in the surf.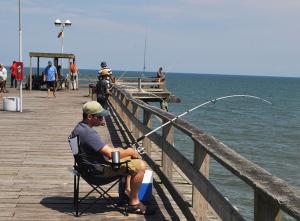 At the intersection of K Avenue, a left turn takes visitors to the epicenter of the town's fishing culture at Kure Beach Fishing Pier, the oldest ocean pier in North Carolina as well as one of the oldest on the East Coast. By parking and walking inside, anglers can buy all the bait, rigs and tackle needed for pier fishing. The counter crew will gladly share their knowledge of which species to catch and what they are biting.
The Fort Fisher Trading Post also sells fishing tackle. It is located near the intersection of Water Oak Circle and Fort Fisher Blvd. It is a great place to stop in for a visit and gain some insight into which fish are biting in the surf and how/where to go about catching them.
How any island can have so many fishing opportunities is a wonder, but at its south end, Fort Fisher State Recreation Area is another public beach that beckons to anglers who own four-wheel drive vehicles. As with the north end's Freeman Park, Fort Fisher State Recreation Area requires visitors who want to drive on the beach to buy daily or season passes, which are available at the park office.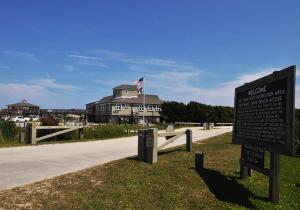 Anglers who prefer to sample some casual surf fishing or do not have off-road vehicles can park at the office parking lot and walk over the dunes to the beach on an elevated wooden walkway. The Fort Fisher State Recreation Area has exhibits, pavilions and restrooms and hosts thousands of visitors every year. It is an excellent place to try your hand at surf fishing while other family members body surf in the waves or take in a few rays, sunbathing.
Traveling all the way to the end of US 421, anglers will find the NC Wildlife Resources Commission Federal Point boating access area, which provides boat access to The Basin and Buzzard's Bay.
Additional Resources:
Fort Fisher Trading Post, 858 Fort Fisher Blvd, (910) 458-8309