Not Your Ordinary Office
Our creatures never sleep, and since they are always on, ideas and solutions for their care begin swirling around in my head as soon as I wake up at 6 a.m. First, I have my own habitat to manage, then I arrive at work at 7:30 a.m. My office is the vast and exhilarating North Carolina Aquarium at Fort Fisher—a beautiful scene of splashing, diving and gliding, along with the occasional chirping of otters. I wear an aquarium uniform—a blue shirt and khaki pants with a name tag. Our guests spot us easily, and we look forward to answering their questions.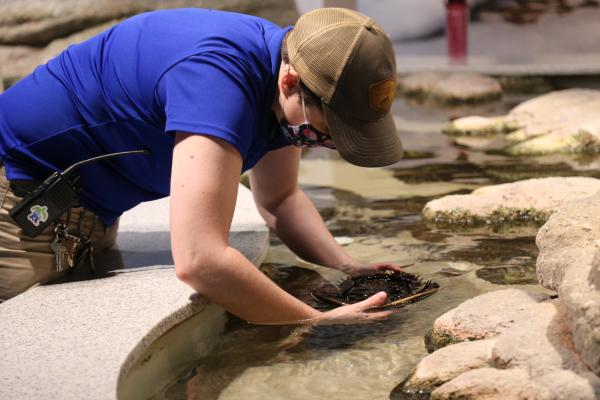 Swimming with Lionfish
The highlight of my morning and the best way to start my day is by saying "hello" to the animals. I spend a lot of time behind the scenes taking care of our life support and making sure everything is running smoothly. Today, our creatures in the Cape Fear Shoals habitat, which includes sandbar sharks, stingrays, groupers, moray eels and more, require their daily feeding and weekly vitamins. There are days when I change into a wet suit and go inside the tanks as part of the maintenance routine. The lionfish are amazing to watch when I hop in to make sure their habitat is in perfect condition.
Ambassadors with a Message: Conservation & Sustainability
This morning, an Aquarium visitor asked if our animals recognize the individuals that work with them. I'd like to think that absolutely they do. It's always exciting to see children learning from the creatures at the Aquarium. The sounds of children and families in the Aquarium are very rewarding and among the many reasons that I have the best job on earth. It's important that our habitats share valuable information on conservation because I believe we should all do our part to care for our natural resources. Visitors to the Aquarium will discover our focused work on gopher frog propagation, sand tiger research and sea turtle rehabilitation, which are just three of our many conservation initiatives designed to protect these natural resources to our ecosystem. Some of the things I do that are simple but can make a difference are buying local and being conscious of the amount of single-use plastic I consume.
Creatures are the Best Teachers
One of the things that comes naturally to me is talking to the animals. I believe that being around them makes me a better person—more compassionate, caring and understanding of people I meet at the Aquarium and those who work alongside me. They've taught me patience and how anyone can surprise you. Training animals, and in particular, fish can be a slow and tedious process. It can also be very rewarding. I've seen animals that people assume don't have a single thought in their heads learn complicated training routines! I have also seen one of the most aggressive animals I've ever worked with, a Mangrove Whiptail ray that weighed about 110 pounds and had about a 5-foot disc width, turn into a dream simply because training her helped us meet her unique needs. Most of my fondest memories of the animals I've worked with revolve around the animals that saw the biggest change because of my team's patience and willingness to train them, and the ways that they surprised us with their ability to learn.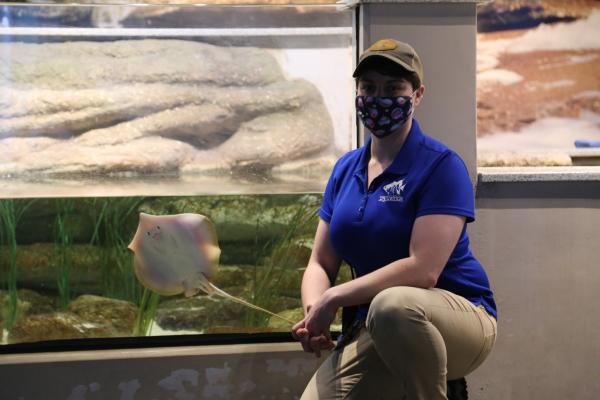 Passion for Work is a Prerequisite
When I finish my day, another aquarist ensures continuity in the care of the animals. To set up the next shift for success, I make sure that all my habitats are well maintained. I head home, usually pretty tired, walking roughly 12,000 steps a day going from one animal to another, making sure their habitats are safe and that they are fed properly.
I sleep well knowing that everyone else in the Aquarium cares as passionately about the creatures as I do, and that the guests appreciate their beauty and importance in our world.