Hidden Gems and Small Wonders at Kure Beach, North Carolina
Beaches tend to be habitual, as in your beach of choice is often the beach you frequented as a child. Lucky for me, my good friend and her family spent summer vacations and fall getaways making trips to Kure Beach, a small beach town located on the southeastern coast of North Carolina. Little did I know that Kure Beach was home to an extraordinary number of unexpected surprises and delights, all ready to be discovered.
By Helen P Karpe
First Impressions
Upon arriving to Kure Beach, I was struck immediately by the peace and quiet. Even the small "downtown area" was the epitome of R&R with one stoplight, one pier and no worries. The welcome lack of hustle and bustle puts the natural beauty and scenic landscapes of Kure Beach front and center. My first stop was the beach, of course. And it should come as no surprise that even the beach itself is unspoiled, another welcome departure from many other beaches today. Once I had my fill of surf, sand and sun, it was time to get off the beaten path. My friend (and traveling companion) turned out to be the perfect tour guide.

Miles of Adventures
Fort Fisher State Recreation Area is home to more than five miles of trails, perfect for enjoying a solo walk or a jog with your running partner. The trails meander from the beach to the sound, so my friend and I got the chance to explore a variety of different terrains, and even discovered some of the wildlife that abounds here. This area is also famous for its twisted oak trees, which have been sculpted by years of ocean breezes. Their shade provided the perfect setting for a picnic—and an afternoon nap.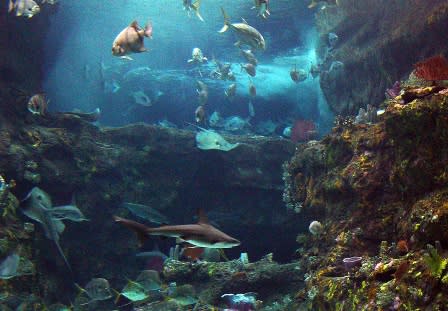 Not Your Average Aquarium Trip
The North Carolina Aquarium at Fort Fisher is one of Kure Beach's most popular attractions. But I discovered that you can actually go beyond the normal exhibits and see what the public normally doesn't with a behind the scenes tour. Reservations are required, but well worth it. We got an inside look at feeding time for the aquarium's largest exhibit, along with a bird's-eye view of the 235,000-gallon tank filled with sharks, stingrays, eels and other fish. Although we skipped on getting our hands dirty, there is an opportunity for visitors to be an aquarist's apprentice for the afternoon and help aquarium staff feed and care for the animals.
Coquina Rock Outcrop
We made sure to time our visit to one special spot on the island at low tide. That's because the coquina rock formation is only visible when the water has receded. Dating back more than 12,000 years, this unique formation is host to a rare mossy hard rock outcrop that is cemented together with seashells and coral. Over the years, these shells have created a perfect area to spot marine life such as sea stars, hermit crabs and conchs. It really is a true natural wonder, and remains the only rock formation on the coast of North Carolina. Photo op, anyone?

Explore the Depths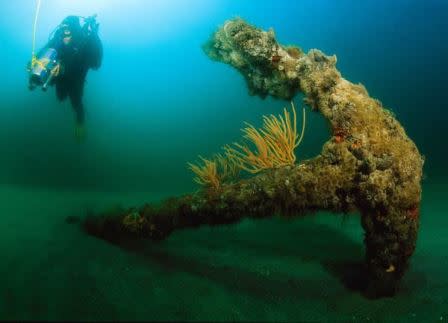 Deep down in the waters of Kure Beach lie the ruins of Civil War ships, fossils and other treasures from the past. Several local dive shops—Aquatic Safaris, Carolina Diving Adventures, Scuba-Now and Diving Carolina—make it possible to explore many of these underwater treasures via chartered dives to shipwrecks and natural ledges. Keep in mind that most dives offered by local outfitters are open to ages 12 and up and require certification. (Fortunately, many of the dive shops also offer certification courses that will have you in the water in as few as three days!) My friend and I opted to stop by the North Carolina Underwater Archaeology Center, located right in Kure Beach, where we saw underwater finds from dive sites North Carolina experts have excavated, and also learned about research being conducted. The team there currently oversees research on an estimated 1,000 shipwrecks and sunken boats in North Carolina!

Bird Watcher's Paradise
One of the most unusual areas of North Carolina's coast is nearby Zeke's Island. Only accessible by small boat, canoe or kayak, this shorebird habitat consists of three islands, each home to beautiful natural tidal flats, marshes and dunes. The walking trails are a great way to see the variety of native shorebirds that abound there, like great blue herons, dunlin and black-bellied plovers. Atlantic Loggerhead sea turtles and green sea turtles also occasionally nest on the site's open beaches. I'd highly recommend relaxing with a good book at the barrier-spit portion of the Reserve.

A History Buff's Dream Come True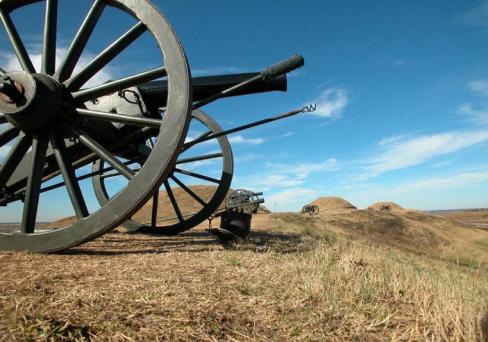 My friend and I explored the tanks, helicopters and other military vehicles at the North Carolina Military History Museum. The outdoor exhibits feature artifacts from all branches of service in previous wars, while the indoor exhibits provide an in-depth look at North Carolina's military history. Fort Fisher State Historic Site, the site of the largest land-sea battle of the Civil War, recently added 19 interpretive exhibit panels along the site's mile-long trail that facilitate self-guided tours of what served as a vital port during the Civil War. Approximately 10 percent of the fort still stands today, along with a recently restored palisade fence. There are a variety of indoor and outdoor exhibits and artifacts commemorating the fort and honoring those who served there. When Ft. Fisher fell after an attack on January 15, 1865, the defeat of the Confederacy quickly followed.

Suffice it to say that my first trip to Kure Beach will definitely not be my last. Whether you want to unwind and unplug or explore some of Kure Beach's best-kept secrets, you can enjoy both in a pure, unspoiled, natural paradise.

Discover more about beautiful Kure Beach and plan your getaway.