48 Hours of Fun in Kure Beach
Small town atmosphere makes for a relaxing getaway
By Jason Frye
Summer may seem like the perfect time to hit the beach, but with the work schedule my wife, Lauren, and I keep, we don't have the time for those long sunny summer days at the shore. For us, it's a fall getaway. With the travel, the meetings, the deadlines and the daily grind, we're glad to reconnect at the place we first met: the beaches of North Carolina.
Day 1
Morning: Our game plan has always been this, since the days when we first met: get there early, claim a patch of sand, enjoy. A visit to Kure Beach in the fall changed that. No summer crowds, days in the 70s and 80s and warm water (and off-season room rates) mean the beach is ours, at least for the weekend. Still, we arrive early to make the most of our two days away.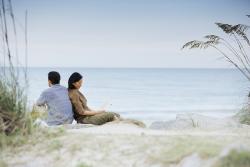 This kind of getaway is unusual for us. With our schedules, we don't get to simply sit with each other as often as we did back when we first met. When we arrive at the Kure Beach Pier, we're set up in no time, eager to relax together. First things first, take a picture of the pier to share on Instagram. The Kure Beach Pier, one of the oldest fishing piers on the East Coast, is weather-worn and loved by everyone who visits—it was the perfect picture to share on our social media. We go for a quick dip, where Lauren playfully splashes me, flashing me a broad smile. Dashing out of the surf, we hit the beach blankets where we sit shoulder-to-shoulder and work on a crossword puzzle.
Puzzle completed, it's time for another dip and a walk. Rather than walk on the beach, Lauren and I decide to head topside to the pier where the people watching is primo. Watching anglers haul up fish after fish makes me think, "Should we cast a line?" We choose not to, but the fishing is hot stuff here. During the Fall Memories Fishing Tournament, the pier's packed with anglers vying for prize money, and the bigger Pleasure Island Surf Fishing Challenge offers cash for the biggest catch landed from shore. From the pier, we'd have prime seats to watch the action of either tourney.
Afternoon: The pier is close to everything in Kure Beach and we're getting hungry, so we head to Jack Mackerel's Island Grill for lunch. Here, the Caribbean flavors extend the summer season and the grouper sandwich quiets my growling stomach.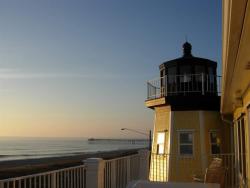 It's time to check into our hotel, so we head to our oceanside abode. When it's just the two of us, we enjoy the amenities and ocean views at Darlings By The Sea. When friends or family join, we usually opt for a cottage or beach house rental.
We consider disc golf at Joe Eakes Park, but decide we've had enough sun, for now, and make our way to the North Carolina Aquarium at Fort Fisher. Exhibits include marine environments from salt marshes and tidal pools, to a two-story open ocean exhibit featuring sharks, rays and eels. There are also interactive experiences like touch tanks, daily live animal presentations and feedings.
Evening: We're meeting friends for dinner; they meet us at SeaWitch Café & Tiki Bar, where we have warm ocean breezes, chowder and crab cakes. After dinner, we stick around to hear live music and grab a drink at the Tiki Bar. Great drinks, tasty food and a little live music to set our feet to dancing; what's better? It's a fantastic way to spend time catching up with our friends.
Day 2
Morning: I get up early for a walk to the pier where I hope to catch a killer sunrise—I do—then it's a quick drive to Wake N Bake Donuts for some sweet treats (and one topped with bacon) to surprise Lauren. I depart with six donuts, but their intoxica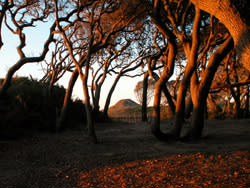 ting scent is irresistible and I arrive with only four. Even so, Lauren's smirk and boisterous laugh lets me know that this is a great way to start our day.
We decided yesterday to spend the morning exploring Fort Fisher. There, the State Historic Site and State Recreation Area give us the chance to take in a little history along the palisades and earthwork batteries, and along the seashore and banks of the Cape Fear River. Lauren spots a few starfish on the rocks and I find half a whelk shell. We find ourselves holding hands as we look for beach glass.
Afternoon: We consider a lighter approach to lunch and decide to think outside the box. We make a picnic lunch of it with meat, cheese and bread from The Veggie Wagon. We dine on one of the swings near Ocean Front Park and talk about last night's sunset.
Since we've both already enjoyed kayaking the basin at Fort Fisher before, we decide to try something new and take a guided canoe excursion to visit Zeke's Island Reserve, a spot known as one of the most important shorebird feeding habitats along our coast. Among the dunes, waves and flats, we spy plovers, herons, and dunlin.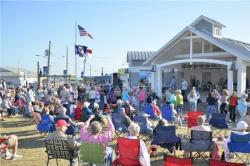 Evening: The Boogie in the Park Concert Series starts at 5:00 p.m. (on select Sundays through October), but we're hungry, so we head back to Freddie's for a big Italian feast while we let the band really get going. My in-laws take the ferry over from Southport and meet us at Freddies (my father-in-law is a fan of those pork chops). After a feast, we walk them to their car, then, hand in hand, we wrap up our evening at the concert. As the music plays and the sky grows darker, we scoot closer together, glad from the break in our work-a-day world.

Request a visitors guide and plan your romantic or friends getaway to Kure Beach.