7 Things My Kids Rated Tops at Kure Beach
I'll admit,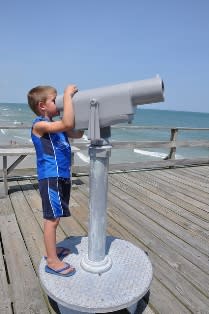 when my wife told me we were going to Kure Beach for our annual pre-Memorial Day escape, I gave her an inquisitive look. Then she told me about North Carolina's "Small Wonder," located just 18 miles south of Wilmington. Somewhere between the words "historic fort," "off-shore fishing" and "affordable rates," I was already (mentally) packing my bag. Naturally, our three young kids were sold on the words "beach," "aquarium" and "oceanfront playground."
Now, as I unpack my bag and reflect on our vacation, I can't help but add up the memories we made. Each and every one was special in its own right, but after spending a two-hour flight listening to my kids talk about how much fun they had, it's apparent that seven experiences really stood out.
By George Smith
Fishing from the Pier
Kure Beach Fishing Pier is one of the oldest fishing piers on the Atlantic Coast, and with fishing access right off the pier, it was our first stop. My kids were definitely impressed with the size of their flounder catches and each fought for bragging rights. Eventually I had to break the news to them that our catches probably couldn't compete with the King Mackerel reeled in during the community's fishing tournaments. (Checking out a fishing tournament in Kure Beach is my excuse to return in the fall.)
Exploring at Fort Fisher
Since a trip to Kure Beach isn't complete without a visit to Fort Fisher State Historic Site—the location of one of the most significant battles of the Civil War—my family traveled back to 1865 via interactive exhibits and hands-on history in the free Civil War Museum. The museum's fiber optic battle map, complete with sound effects, was a great way for my eight-year-old twins to get a feel for all the action that took place at that very spot. And I watched their imaginations run wild as they took sides on a self-guided tour along the earthen fort's outdoor walking path. My multi-tasking wife even managed to play referee while reading the trail's new interpretive panels.
Losing at Disc Golf
Our family rule on vacation is "winner buys dinner." So naturally, everyone was thrilled when I beat them on the sandy 18-hole disc golf course at Joe Eakes Park. Dinner that night was fresh seafood, of course. After getting a tip from a friendly local, we parked our rental bikes in front of Jack Mackerel's Island Grill. The kids scarfed down the shrimp on the Kids Menu, and my wife and I split a platter of oysters. Although it was a treat to dine on such fresh seafood, it was hard to focus on our plates when we had such amazing ocean views from our table on the upper deck.
Going Behind the Scenes
While the famous albino alligator (Luna) got us in the door, it was being able to take a behind-the-scenes tour that made us never want to leave the award-winning North Carolina Aquarium at Fort Fisher. It's easy to see why the Aquarium was just included on TripAdvisor's list of Top 20 U.S. Aquariums; they recently added a sea turtle rehab tour and next time we come back we're going to try our hands at hand-feeding exotic birds in the brand new lorikeet exhibit.
Being on Island Time
I could almost feel the stress melting away as we crossed the bridge to the island. My kids even remarked several times that I'm much more fun when I'm on vacation! It must have been some combination of the welcoming locals rubbing off on me and the pleasant weather (this part of the country thaws out before the rest). I'm normally a mess of stress, but being on island time worked wonders for my mood, and my kids definitely reaped the benefits!
Playing in a Natural Playground
It was cool to see so many shore birds in the salt marsh habitat they call home. Another highlight on our guided kayak tour with Kayak Carolina was visiting the uninhabited (unless you count wildlife) Zeke's Island Reserve. We enjoyed paddling in the scenic Cape Fear River Basin, but it really seems like all of Kure Beach is a natural playground. For example, the unspoiled stretch of sand we found at Fort Fisher State Recreation Area was perfect for barefoot exploits such as shelling and bird watching.
Playing in an Oceanfront Playground
I still can't belie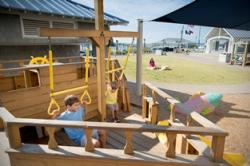 ve how much fun we had at Ocean Front Park. For the first time in a long time, I was never tempted to pull out my iPhone. Between the boardwalk, oceanfront swings and rain gardens, there was enough to keep my kids, and subsequently me, preoccupied. My four-year old especially liked the "tot lot" playground, complete with a pirate ship, fish and turtle, perfect for climbing and exploring. I can only imagine how popular this place is after Memorial Day when it's home to regular summer programs like Boogie in the Park, Turtle Talks, Storytime by the Sea, and the Kure Beach Market.

My kids may be young and have many more vacations ahead of them, but a part of me knows they'll never forget this trip. My wife gets all the credit for bringing us to Kure Beach, but Kure Beach gets all the credit for bringing us closer together.
Request your free visitors guide and start planning your family's trip to Kure Beach!